Erdogan And Yildirim Witness The Ceremony Of Laying The Foundations Of Chanakkale Bridge 1915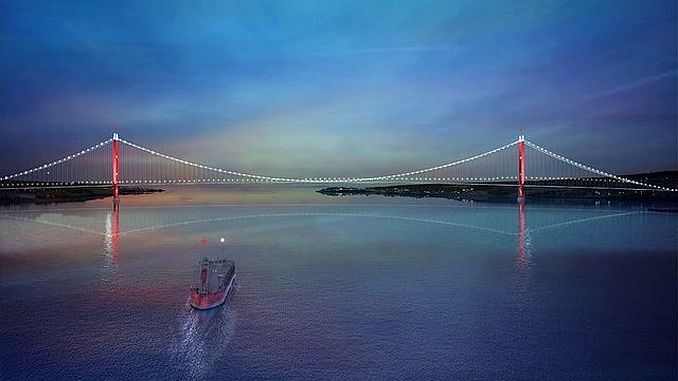 Turkish President Recep Tayyip Erdoğan and Prime Minister Ben Ali Yildirim witnessed the ceremony of laying the foundations of the Chanakkale Bridge 1915 in the north-west of Turkey
Construction of the bridge is expected to be completed in 2022, which will link the provinces of Chanakkale and Tekirdag.
On this day of 2017, the Turkish government laid the foundation stone for the bridge and highway project between the provinces of Chanakkale and Tekirdag.
The bridge is being built on the Dardanelles Strait and will connect the continents of Asia and Europe. It will be parallel to the highway project, which will be one of the most important sections of the bridge and is expected to have a significant positive impact on the real estate movement sales in Turkey.
On January 26, 2017, Turkey's Minister of Transport, Maritime and Communications Ahmed Arslan announced the victory of South Korea's Daelim-Limak-SK Group to bid for the construction of the bridge.
It will have a length of 3860 meters, while the distance between the two towers (columns): 2023 meters, and includes 6 tracks.
After the completion of the bridge, the bridge will shorten the transit time of the Canakkale Strait from 30 minutes by ferry to 4 minutes by car.
The bridge will also break a record in terms of height of its towers, which will reach 318 meters, and 333 meters with the upper part.
The project also includes a 101 km highway.
Source: TRT Arabic – Agencies